The five roots of religion in Usul ad-Din in Shi'a Islam
The five roots of religion in Usul ad-Din in Shi'a Islam
​Shi'a Islam emphasizes the importance of five fundamental principles which are sometimes called the 'roots of religion'. Every individual must make themselves aware of these truths as the foundation of their faith.
Usul ad-Din, the five roots of religion, can also be referred to as the 'foundation of faith'. They are:
Oneness of God (Tawid)
Justice of God (Adl or Adalah)
Prophethood (Nubuwwah)
Leadership (Imamat)
Resurrection (Qiyyamat).
​ 1 The oneness of God (Tawid): There is one God who has no equals; he is a divine unity. He cannot be compared to anyone or anything. He is perfect and unique and he possesses infinite power and knowledge. He is immortal (he was never bon) and has no partner or children. He alone should be worshipped. 'Say, "He is God, [who is] One, God, the Etenal Refuge.' Qur'an 112:1–2
2 The justice of God (Adl or Adalah): God is perfect justice, fainess and wisdom. He does not wrong anyone and he will not tolerate wrongdoing. He cannot abuse his power by performing acts that go against his own nature to be just and fair. Humans must be responsible for their own actions, good or bad.
3 Prophethood (Nubuwwah): God has appointed prophets and messengers to guide human beings, showing them how to live in peace and submission to God. According to some Islamic sources, God sent 124,000 prophets; some of these bought divine scriptures with them, from God. Muhammad was the Seal of the Prophets, meaning that he brought the final, perfect and unchanging message from God.
4 Leadership (Imamat): All Muslims believe that Muhammad was the last prophet, who brought the final scripture (the Qur'an) to humanity. Shi'as believe that, after his death, God appointed 12 infallible Imams to guide the Muslim community, leading them on the path set by the Prophet Muhammad. These Imams are part of what Shi'as call Ahl al-Bayt (the Family of the House). In other words, they are part of Prophet Muhammad's extended household. Of these 12, 11 have been killed. They believe that the 12th (or hidden) Imam is still alive, but is in hiding (occultation), waiting to reappear and rule on earth with justice. They sometimes refer to him as the Mahdi.
5 Resurrection (Qiyyamat): The belief that, on the Day of Judgement, there will be a resurrection, when all human beings will be physically raised to life to be judged by God. He will reward the good and punish the evil. 'So, whoever does an atom's weight of good will see it, and whoever does an atom's weight of evil will see it.' Qur'an 99:7–8
| | |
| --- | --- |
| Name | The five roots of religion in Usul ad-Din in Shi'a Islam |
| Country | Iran |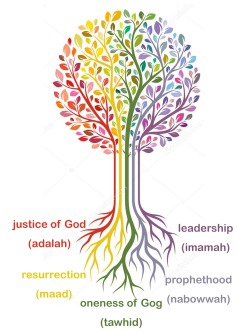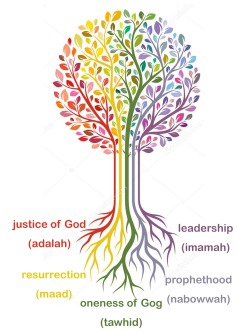 Font size change:
Change word spacing:
Change line height:
Change mouse type: