Outreach health screening organised at the Kyidomman Palace at Mamfe, on Saturday by the Iran Clinic in Accra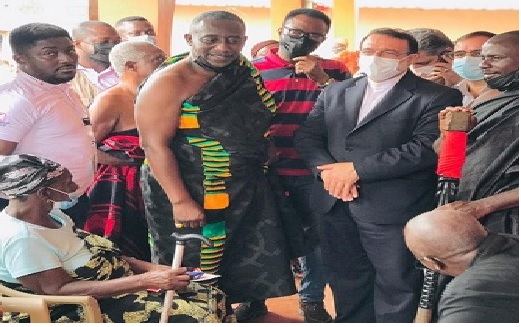 Akuapem,Iran Embassy partner to promote socioeconomic dev of their people
The Akuapem Kyidomman Council, Mamfe, in the Eastern Region and the Islamic Republic of Iran Embassy in Ghana, are seeking to foster partnership to promote socioeconomic development of their people.
This came to light when the Head of Mission of Islamic Republic of Iran Embassy in Ghana,Bjan Gerami and his entourage, paid a courtesy call on the Council on Saturday.
Hundreds of the aged in the community went through the medical screening,including laboratory tests and those with serious conditions were referred to the Clinic in Accra for further attention.
The Mamfehene and Kyidomhene of Akuapem, Osabarima Ansah Sasraku III,expressed profound gratitude to the Iran Embassy for the outreach medical care.
He urged the Iran Embassy to make their medical service outreach to the community often for the benefit of the people.
Osabarima Sasraku said the traditional area abounds in a "large army of youth" and the council was developing a proposal for the establishment of skills training and youth centre to unearth their talents, and take them away from deviant behaviours like alcoholism, drug abuse and gambling.
He said the council was,therefore, seeking the support of Iran to make the project a reality, adding "it is our dream that this will come to reality and the edifice will be a symbol of our relationship for years."
For his part, Mr Gerami commended the Kyidoman Council for the warmth hospitality and promised to collaborate with them for the mutual benefit of the two.
He recalled the long standing good relationship between the government and people of Ghana and Iran and enumerated some projects including the establishment of the clinic to complement the government's effort in healthcare, rural agricultural project, the Islamic University College to improve access to tertiary education and the provision of scholarship to some Ghanaian students to study in Iran.
The Head of Mission said there were a number of Iranian businesses in the country, who would want to explore business opportunities in the traditional area.
He said the "unlawful sanctions" imposed on Iran by the US government negatively impacted on Iran's financial system and had limited Iran's continuous support to communities in need across the globe, including Ghana.
The Medical Director of the Iran Clinc, Dr Seyed Salahatpour, said the medical outreach in the needy communities would be sustained.
Kelvin Yeboah, National First Aid Instructor of the Ghana Red Cross Society lauded the collaboration between the clinic and the society to improve healthcare in vulnerable and undeserved communities
From Salifu Abdul-Rahaman, Mamfe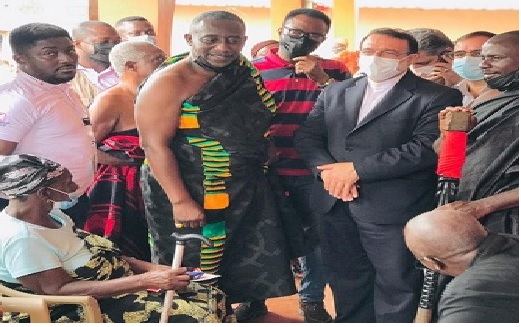 Font size change:
Change word spacing:
Change line height:
Change mouse type: