Kamaloddin Behzad
He completed his training at the Herat Library, under Mirak Naqqash (Mirak the Painter), and gained great skills in painting and drawing. Behzad engaged in painting, book decoration, and librarianship in the library of Sultan Hussain, Bayqara from the late seventies of the 15th century CE until the year 1507 CE. He went to Tabriz Behzad in the year 1520 CE which was then the capital of the Safavid king, Shah Ismail, and served in the royal library for some time, but later on, he returned to his birthplace.
Due to Behzad's fame, many people imitated his works for centuries and put his name on what they had painted. This has made it difficult to distinguish his original works. Based on the information available about his works, the images that were originally signed by him are the ones that were used in a copy of Sa'di's book "Boustan", which is preserved in the Cairo National Library.
From among the relics of Kamaloddin Behzad - which are kept in museums of Iran and the West - mention can be made of: "Khamseh Mir Ali Shir Navai", "Khamseh Amir Khosrow Dehlavi", Golestan of Sa'di", "Painting of Sultan Hussain Bayqara, his harem and his people in a garden", "Khamseh Nezami", "Zafarnameh Sharafuddin Ali Yazdi", circular painting of the "Old and Young Scene", a painting of "Two Camels Fighting Servants", etc.
Kamaloddin Behzad passed away in Herat or Tabriz in the year 1535 CE. There are two views with regard to his resting place. According to one view, it is in the Mokhtar Mountain of Herat and according to the second view, it is in the tomb of "Do Kamal" in Tabriz.
| | |
| --- | --- |
| Name | Kamaloddin Behzad |
| Country | Iran |
| Nickname | Kamaloddin Behzad |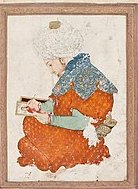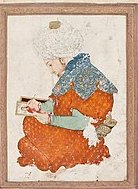 Font size change:
Change word spacing:
Change line height:
Change mouse type: